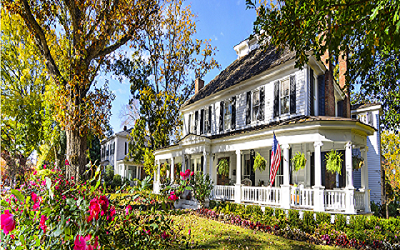 Pinson is a city in Jefferson County near Birmingham, Alabama, United States, northwest of Center Point. It incorporated in March 2004. As of the 2010 census, the population was 7,163.

According to the U.S. Census Bureau, the community has a total area of 7.0 square miles, of which 7.0 square miles is land and 0.04 square miles (0.43%) is water.

Pinson is located in an area of SW - NE parallel ridges, with occasional rock outcrops, especially toward the east-facing ridge crests. Pinson is home to the Turkey Creek Nature Preserve and the Alabama Butterbean Festival.

The Palmerdale Homesteads are located within the city limits of Pinson. The Palmerdale Homesteads were the first of five farmers' resettlement communities built in Alabama under President Franklin Roosevelt's New Deal in the 1930s. The first of the 102 homesteads were completed in 1935. A community store and elementary school/community center were completed in 1937 to serve the farming community.

As of the census of 2000, there were 5,033 people, 1,853 households, and 1,450 families residing in the community. The population density was 721.2 people per square mile. There were 1,953 housing units at an average density of 279.8 per square mile. The racial makeup of the community was 89.85% White, 8.33% Black or African American, 0.32% Native American, 0.40% Asian, 0.02% Pacific Islander, 0.34% from other races, and 0.76% from two or more races. 2.27% of the population were Hispanic or Latino of any race.

There were 1,853 households out of which 41.4% had children under the age of 18 living with them, 59.8% were married couples living together, 15.3% had a female householder with no husband present, and 21.7% were non-families. 19.0% of all households were made up of individuals and 6.3% had someone living alone who was 65 years of age or older. The average household size was 2.71 and the average family size was 3.08.

In the community the population was spread out with 28.3% under the age of 18, 9.7% from 18 to 24, 31.7% from 25 to 44, 20.6% from 45 to 64, and 9.8% who were 65 years of age or older. The median age was 33 years. For every 100 females there were 93.5 males. For every 100 females age 18 and over, there were 88.8 males.

The median income for a household in the community was $39,583, and the median income for a family was $48,707. Males had a median income of $33,843 versus $25,112 for females. The per capita income for the community was $17,704. About 8.6% of families and 10.3% of the population were below the poverty line, including 12.2% of those under age 18 and 10.9% of those age 65 or over.

(Source)


All information provided is deemed reliable but is not guaranteed and should be independently verified. Such information being provided is for consumers personal, non-commercial use and may not be used for any purpose other than to identify prospective properties consumers may be interested in purchasing. Information contained on the computer print-outs of the Birmingham Area Multiple Listing Service (MLS), is furnished by MLS participants for dissemination to other MLS participants, for their exclusive use, and should not be relied upon by buyers or any other person. There is no express or implied warranty by the Association or MLS as to the accuracy of such information, which should be independently verified by buyer or such other person. MLS does not verify the information and disclaims any responsibility for its accuracy.
Updated: 25th March, 2019 5:38 PM.